Aston Martin Virage
STEERING WHEEL HALF PERFORATED LEATHER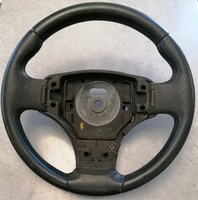 USED GENUINE ASTON MARTIN
HALF PERFORATED LEATHER STEERING WHEEL
SIDES ARE PERFORATED LEATHER BOTTOM AND TOP SMOOTH ALL SEMI MATT FINISH LEATHER
THERE IS A SMALL INDENT TO THE LEFT SIDE OF THE WHEEL PLEASE SEE PHOTO
THIS DOES NOT COME WITH SWITCHES OR WIRING
PLEASE NOTE THAT WHILE ALL STEERING WHEELS FROM FULL SIZE, POST 2004 ASTONS (IE EVERYTHING BUT CYGNET) INTERCHANGE MECHANICALLY, THE 4G43 AND 9G43 SWITCHES CHANGE IN APPEARANCE ONLY (THEY STILL FIT AND WORK THE IN THE SAME WAY). THE LATER CD33 SWITCHES WITH SPORT BUTTONS HOWEVER CHANGE INTERNALLY AND WILL NOT WORK IF YOU HAVE THE WRONG ONES.
FROM 2004 TO APPROX 2009 THE SWITCHES HAVE PART NUMBERS BEGINNING 4G43-1???? FROM AROUND 2009 TO 2012 THEY BEGIN 9G43-1 AND FROM AROUND 2012 THEY BEGIN CD33-1 THIS NUMBER IS ON A SMALL WHITE PAPER LABEL VISIBLE ONCE YOU UNDO THE SCREWS SECURING THE SWITCH TO THE WHEEL. PLEASE PUT 'STEERING WHEEL SWITCH' IN THE SEARCH BOX TO VIEW SWITCH LISTINGS. NOTE THAT 4G TYPE SWITCHES ARE NOW DISCONTINUED.
IF YOU ARE BUYING A WHEEL WITH THE SAME NUMBER OF SWITCHES, THERE IS NO REASON YOU CANNOT UNSCREW YOUR SWITCHES AND FIT TO YOUR NEW WHEEL SO YOU COULD USE ANY WHEEL.
FITTING JUST A CRUISE SWITCH TO YOUR EXISTING WHEEL MAY BE POSSIBLE, I HAVEN'T TRIED, YOU CANNOT BUY THE PLUG TO FIT TO THE SWITCH SO YOU WILL NEED TO OVERCOME THAT AND, YOU WILL NEED TO CUT AWAY SOME OF THE RUBBER BOSS TO MAKE SPACE FOR THE SWITCH,DRILL SUITABLE HOLES ETC, ALL IN ALL A JOB FOR A KEEN MODELLER WITH SOME ELECTRONIC SKILLS...
I HOPE THAT DISPELS SOME MYTHS ABOUT SWAPPING ASTON STEERING WHEELS!
*** IN STOCK READY FOR IMMEDIATE DISPATCH ***
Condition: USED