Aston Martin Virage
STEERING WHEEL CRUISE BLUETOOTH SPORTS LEATHER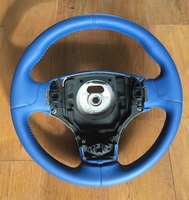 NEW GENUINE ASTON MARTIN
VANQUISH STEERING WHEEL, BLUE LEATHER AS PICTURES.
COSTS £1709.65 FROM YOUR UK DEALER
NOTE THE CUTOUTS FOR THE SWITCHES IN THE LEATHER ARE IDENTICAL TO EARLIER 4G & 9G TYPE SWITCHES SO CAN BE FITTED WITH ANY OF THE ASTON STEERING WHEEL SWITCHES AS LONG AS THE WIRING IS CHANGED OVER TOO(THE PLUGS ARE DIFFERENT) ENABLING IT TO FIT ANY FULL SIZE, POST 2004 ASTON (IE EVERYTHING BUT CYGNET).
THE 4G43 AND 9G43 SWITCHES CHANGE IN APPEARANCE ONLY (THEY STILL FIT AND WORK THE IN THE SAME WAY). THE CD33 SWITCHES HOWEVER HAVE EXTRA FUNCTIONS AND ARE USED ONLY ON NEW VANQUISH SO FAR.
ALL STEERING WHEEL AIRBAGS FROM 2004 ONWARDS FIT THIS STEERING WHEEL.
Condition: NEW