Aston Martin V12 Vantage
STEERING WHEEL SPORTS LEATHER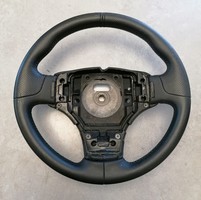 USED GENUINE ASTON MARTIN
SPORTS STEERING WHEEL LINISHED IN PERFORATED LEATHER EFFECT ON THE TOP HALF
HAS A FEW MARKS FROM POOR STORAGE PLEASE SEE PHOTOS
DOES NOT COME WITH WIRING OR SWITCHES PLEASE SEE PHOTOS
THE 4G43 AND 9G43 SWITCHES CHANGE IN APPEARANCE ONLY (THEY STILL FIT AND WORK THE IN THE SAME WAY). THE CD33 SWITCHES HOWEVER HAVE EXTRA FUNCTIONS AND ARE USED ONLY ON NEW VANQUISH SO FAR.
ALL STEERING WHEEL AIRBAGS FROM 2004 ONWARDS FIT THIS STEERING WHEEL.
FROM 2004 TO APPROX 2009 THE SWITCHES HAVE PART NUMBERS BEGINNING 4G43-1???? FROM AROUND 2009 TO 2012 THEY BEGIN 9G43-1 AND FROM AROUND 2012 THEY BEGIN CD33-1 THIS NUMBER IS ON A SMALL WHITE PAPER LABEL VISIBLE ONCE YOU UNDO THE SCREWS SECURING THE SWITCH TO THE WHEEL. PLEASE PUT 'STEERING WHEEL SWITCH' IN THE SEARCH BOX TO VIEW SWITCH LISTINGS.
LISTED AT 50% OFF AM LIST PRICE
*** IN STOCK READY FOR IMMEDIATE DISPATCH ***
Condition: USED