Aston Martin V12 Vantage
SWITCH MAIN BODY/FASCIA - PIANO BLACK - SATIN CHROME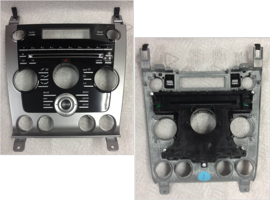 MAIN SWITCH BODY FOR CENTRE STACK, LATER STYLE (FITTED TO V8 VANTAGE AND DB9 FROM 09MY.)
NEW - PIANO BLACK OUTER AND PIANO BLACK INNER WITH SATIN CHROME TOGGLE PLATE.
THIS LISTING IS FOR THE 12MY VERSION WHICH HAS A SATIN CHROME FINISH TO THE TOGGLE PLATE - SLIGHTLY DIFFERENT IN APPEARANCE TO THE STANDARD CHROME KNOBS. SEE PICTURES WHICH DEMONSTRATE THE DIFFERENCE IN FINISH.
NOT HELD IN STOCK PLEASE ALLOW 2-3 DAYS TO ORDER.
AML PART NUMBER CD33-13D734-CA.
PLEASE NOTE, THE FIRST IMAGE SHOWN IS OF A COMPLETE CENTRE STACK ASSEMBLY USED TO DEMONSTRATE PIANO BLACK FINISH. THE SECOND IMAGE SHOWS A SWITCH MAIN BODY AND FASCIA ONLY (AS LISTED - DOES NOT INCLUDE INFOTAINMENT, HVAC, TEMP, FAN, TUNER, VOLUME, OR CLOCK MODULES).
Condition: NEW