Aston Martin DB9 2004 - 2012
DB9 LEFT SIDE MIRROR TYPE LATE 4G43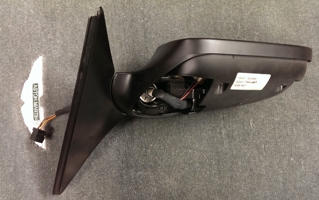 FITTED TO DB9 COUPE & VOLANTE WITH VIN GREATER THAN 05151 UNTIL THE FACELIFT TYPE REPLACED IT IN 2009.
THIS HAS ALSO BEEN USED TO REPLACE THE EARLIER TYPE MIRROR WHICH WAS FITTED PRIOR TO VIN 05151 THIS EARLY TYPE HAS BEEN UNAVAILBLE FROM ASTON MARTIN SINCE 2008, MANY OF THE EARLY MIRRORS HAVE NOW BEEN REPLACED WITH THIS LATER VERSION AND NO RECORD HAS BEEN KEPT OF WHICH CAR HAS WHICH MIRROR. BOTH THE TYPES LOOK IDENTICAL ON THE OUTSIDE BUT FITTING THIS LATER TYPE TO EARLY CARS REQUIRES A LIST OF NEW PARTS TO FIT IT TOTALLING ABOUT £145 PER MIRROR.

THE FIRST AND MOST EASILY VISIBLE DIFFERENCE IS INSIDE THE CAR WHERE THE INTERNAL TRIANGULAR TRIM PANEL IS HELD ON WITH CLIPS ON THE EARLY TYPE AND 3 SCREWS ON THIS LATER TYPE. PLEASE SEE PICTURE OF TWO TRIMS.
THE LATE MIRROR BASE HAS 3 SMALL HOLES FOR THE TRIM SCREWS, THE EARLY BASE HAS A PART NO '3004-765LH' CAST INTO THE METAL AND DOES NOT HAVE THE 3 TRIM SCREW HOLES. AGAIN PLEASE SEE PICTURE OF TWO BASES.
THIS LISTING IS FOR A NEW LATE TYPE LEFT MIRROR WITH OUT POWERFOLD 0R MEMORY, IT DOES NOT COME WITH MIRROR LENS OR CAP, THESE CAN BE FOUND BY TYPING 'TYPE 37 MIRROR' INTO THE SEARCH BOX.

Condition: NEW