Aston Martin WORKSHOP CONSUMABLES
WD-40 400ML AEROSOL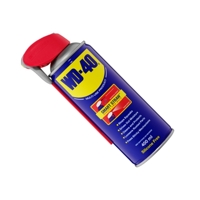 WD-40 MULTI-USE SMART STRAW 400ML AEROSOL.
WD-40® Multi-Use Product protects metal from rust and corrosion, penetrates stuck parts, displaces moisture and lubricates almost anything. It even removes grease, grime and more from most surfaces.
PLEASE BE AWARE THAT DUE TO THE NATURE OF THIS PRODUCT WE CAN NOT SHIP OUTSIDE EUROPE.
Condition: NEW