Aston Martin ACCESSORIES & GIFTS
AUTOGLYM PAINT RENOVATOR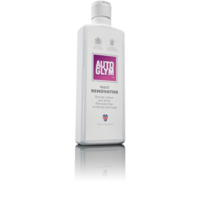 NEW AUTOGLYM SELECTED BY ASTON MARTIN
PAINT RENOVATOR 325ML
Even the most careful owner picks up the odd scratch and scrape from time to time. If you have a scratch or paintwork blemish, wash and apply Super Resin Polish firmly to restore the area. If this does not repair the area sufficiently, move up the abrasive scale to Paint Renovator.
Paint Renovator is not an all over polish; it should only be used on isolated marks and specific areas of paintwork damage. Suitable for hand use only and should not be applied by machine. Avoid applying to un-lacquered metallic paint which may 'shade'.
How to use this product:
Test on an inconspicuous area first.
Shake well and apply to a cool, clean, dry surface with a soft cotton cloth using strokes parallel to the scratch. Increase the pressure to remove specific scratches or stains. Decrease pressure to improve surface gloss. Check repair progress regularly.
Remove residue with a clean cloth. Finally, polish with Super Resin Polish to maximise gloss, preserve the surface and remove any remaining marks.
Condition: NEW