Aston Martin Vanquish 2001 - 2007
BETAMATE E2700 POLYURETHANE ADHESIVE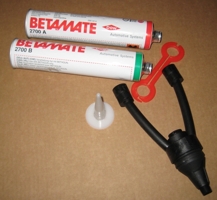 Description / Application:
BETAMATE E 2700 is a high-viscosity two component polyurethane adhesive/sealant which cures almost
independently moisture. With BETAMATE E 2700 we reach a drive away time on a non airbag vehicle between 60
and 90 minutes (10°C to 35°C) depending on the circumference of the screen.
All Dow Automotive products are primarily developed in co-operation with the automobile
manufacturers, according to their needs and their specifications; they are approved for the specific
applications as defined by the customer.
Condition: NEW