Aston Martin CAR CARE & VALETING
AUTO GLYM WHEEL PROTECTOR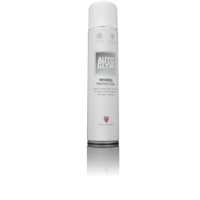 NEW AUTO GLYM SELECTED BY ASTON MARTIN
AUTO GLYM WHEEL PROTECTOR
PLEASE NOTE: UNABLE TO SHIP BY AIR - ROAD ROUTES ONLY
Before you start:
This is an easy to use spray sealant, but to work effectively it needs time to dry. After applying do not touch or buff the wheel surface, drive the car or allow the wheels to get wet until the coating has fully dried.
If you are using Instant Tyre Dressing, apply it before Wheel Protector and remove any overspray.
How to use this product
1.Ensure your wheels are clean, cool to the touch and completely dry.
2.Shake well and spray, covering half the wheel surface. Remove any excess from the tyre as it may leave a white residue.
3.Do not buff or touch once applied, simply leave to dry for 1 – 1.5 hours, the longer the better.
Condition: NEW