Aston Martin DBS
REAR RIGHT - LOWER SUSPENSION ARM 6G33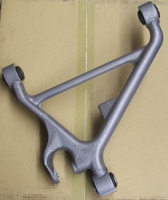 Genuine Aston Martin part
Right lower suspension arm, or wishbone - ARM BUSHING ASSEMBLY.
Fits all years and models.
THE PART NO IS 6G33-5B530-** IF IN DOUBT THIS NUMBER IS ETCHED IN YOUR OLD WISHBONE BUT BE WARNED IT IS VERY DIFFICULT TO FIND DUE TO BEING IN TINY LETTERS & VERY SHALLOWLY ETCHED IN, THE ARM NEEDS TO BE CLEAN ENOUGH TO EAT OFF BEFORE YOU WILL SEE IT!

Condition: NEW