Aston Martin DBS
SEAT MOTOR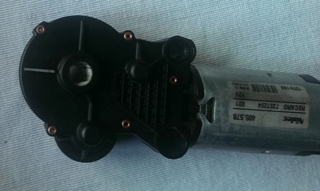 SEAT BACK MOTOR, NOT AVAILABLE AS A SEPARATE PART FOR MOST SEATS, IT SEEMS TO FIT MOST WE HAVE TRIED IT ON SO FAR BUT YOU MUST CHECK SUITABILITY FOR YOURSELF BEFORE BUYING.
ELECTRICAL CONNECTION:- THIS HAS 2 SMALL SPADES AND 2 TINY PINS - SOME MOTORS HAVE A DIFFERENT SHAPE PLUG, SOME HAVE WIRES FROM THE MOTOR - NOT THAT DIFFICULT TO GET AROUND.
DRIVE SPLINE THIS IS THE SQUARE TYPE TAKES A SHAFT ABOUT 10MM ACROSS.
REMOVED FROM A NEW SEAT WITH TORN LEATHER SO HAS BEEN FITTED BUT IS UNUSED.
Condition: NEW - BUT FITTED